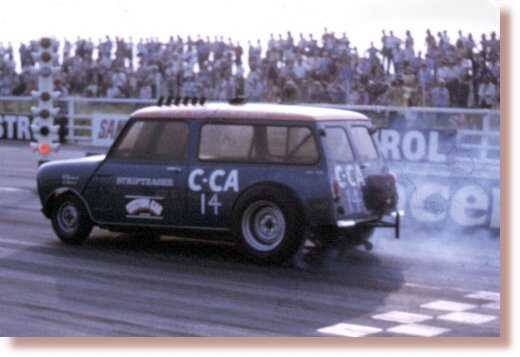 Geoff Hauser photo
(This article was first published in the February 1971 edition of Custom Car magazine)
Few good-looking competition altereds built new from the wheels up have appeared on the strips in the past few months but one wet day in July a pretty little gold and blue Minivan made its debut at Santa Pod Raceway. Titled Stripteaser, it's the creation of a couple of New Malden guys - Roger Bishop and Robert Messent - who knocked it out for no more than £130 in only four months. Really, 'knocked out' is a little unfair, cos it's beautifully prepared and makes some of drag racing's expensive machinery look like wrecker's yard fodder.
Starting out with a '63 Austin Minivan, they figured there wasn't much wrong weight-wise with the Longbridge front end so they left the front suspension and drum brakes plus the steering box, completely stock. And the Jag powerplant - out of a '60 3.4 - seemed plenty able to handle the weight, so they left that stock too. Just the sky-high zoomie headers bursting through the cab identify the mill as unstreetable.
Because the carburation set-up is standard, Messrs Bishop and Messent elected to run petrol rather than methanol, ignited via a Lucas coil and Champion sparkers. Castrol GTX, filtered by AC, is to be the regular lubricant.
The clutch and four-speed manual trans were also ripped from that 3.4, along with the 3.54 rear end. Rear wheels are 7½J steel rims mounting 15in Dunlop SP Sports rubber. Standard Mini wheels with Avon tyres are fitted forward.
The boys made their own chassis frame (there's no rear suspension) to house the Jag mill where the front seats oughta be. Fuel tank, coil and battery are located under the hood. Stripteaser's steel body has been given Perspex side windows, estate car style, the rear wheel arches were flared to accommodate the big boots and headlight housings neatly panelled-in with sheet alloy. A guy by the name of Hobbs freaked up the gooky paintjob - marigold roof 'n' Rootes Electric Blue lower half - and treated the interior to a dose of the matt blacks. Only instruments are an oil gauge and tach.
As racing was rained-off the day that Stripteaser appeared, the boys have had little chance to get the machine sorted, though 13.99 seconds and 98.19mph best times should put some money within their grasp. If not, they'll just have to take that air filter off that Jag motor won't they?
Mike Lintern