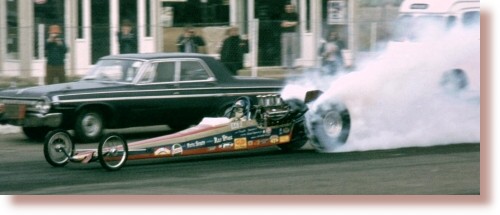 Alan Currans photo
(This article was first published in the September 1972 edition of Custom Car magazine)
Since back-motored rigs are accepted Stateside as the way to go it came as no surprise to the drag racing fraternity when Ray Hoare - one of the sport's ultra-perfectionists - rolled out a rear-engined digger at this year's Custom Car Show. Ray's previous car - the slingshot Chevy rail colour-featured in our September '71 issue - was also his first, but what he lacked in experience Ray made up by his insistence on installing the very best hardware. The front-engined Saxon was one of the sharpest diggers on the strip and the only thing that stopped the car realising its full performance potential was its owner's desire to move with the times. To get up front.
So up front he went. That meant a new frame, a new body and a new motor set-up. The new Saxon packs a John Woolfe Racing Z28 short-block 302 Chevy mill - originally intended for Formula 5000 or some equally disgusting motorsport - hogged out to withstand eventual loadings of up to 80% nitro. At first Ray plans to shake the motor down with straight methanol or pump gas, switching to a more exotic mix when the plot is sorted.
Just about all of the motor's innards are purpose-built drag parts, from the hi-rev Crane cam kit and 4in Forged True pistons hung with TRW rings to the Carillo rods. Compression ration is 11.5-to-1.
Fuel injection is a Hilborn big-bore unit, with ignition in the hands of a Scintilla mag hooked up to a set of Autolite (sorry, Motorcraft), Champion, NGK, or whatever plugs Ray finally selects. Valvoline is the oil chosen, with Wynns adding a little extra protection.
At present the Saxon runs a Schiefer dual-plate clutch hooked to the Schiefer 40lb steel flywheel, but later in the season there are plans to ship in one of the latest slider clutches. Protecting spectators in the event of a clutch explosion (Ray's OK, he's out front) is a Lakewood hydroformed steel scattershield. Major engine parts suppliers were John Woolfe Racing.
Rear end is the unit from the previous car - a narrowed 4.56-to-1 unit from a '59 Chevy Impala - as are the Woolferace mags and M&H 14in slicks. When Ray put together the back-mounted brakes for the original car he fitted a set of drums, but new BDR&HRA safety regs calling for discs on all-new dragsters meant a modification for the new car and Ray has since installed a lightweight disc assembly. Back-up stopping system features a British Irvin chute.
Ray fabricated the tube front axle himself using Allard Dragon hubs wheels (yes, you can still buy them in this country) mated to Ford E93A spindles. Front tyres are 2.75-15 Dunlop Strip-hogs, suspension conventional torsion bar.
Material for the Saxon's 140in-wheelbase chassis came from Alan Ing's Alanton Engineering, drag goodies outfit, and is headed by 18g 1žin tube main rails. Super-neat panelling is in 20g aluminium, again from Alanton, and carries a trick red, blue and gold metalflake paintjob courtesy of Pat Cuss (Fibreglass Applications). Ray handled the signwriting himself.
At racemeets Ray is behind the tiller (a home-made butterfly), while Pete Steff wrenches,drives the pushcar and together with Roy Cockbill acts as a shoulder to lean on when there's a problem.
Saxon is designed to give the big rails a fright and Ray has closely followed the formula of the highly successful 'Outcast Junior' Stateside junior fueler in his construction, so there's no doubt the car is capable of running with the money in mind. Only time will tell. If the back-motor idea doesn't work Ray will probably debut a front-wheel drive rail at next year's Custom Car Show.
Mike Lintern