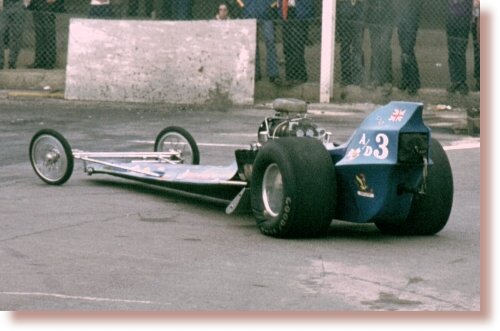 Alan Currans photo
(This article was first published in the March 1973 edition of Custom Car magazine)
Little Daddy Alan Herridge, all five feet nothing of him, has been around the drags a long time. Right from the sport's British beginnings he was in there, stomping his right foot and making as much noise and smoke as is possible with a pre-war Buick straight eight. In other words he's had a whole lot of real experience when it comes to handling a nitro-burner in heat.
With Firefly - Santa Pod's hairiest scariest team car - Alan needs it. Bob Phelps, SPR bossman and Bromley's answer to Brunel, built Firefly as the ultimate in full-bodied slingshots and now the car's packing a Garlits-built Dodge 426 it's got to be the hottest package of its kind in the world.
Mid-72 saw the SPR team, consisting of Bob and Roy Phelps, little Alan and chief-technician-cum-alchemist Peter Billinton, opt to dump the car's ailing 392 Chrysler (since fitted to the Metronome Bond Bug) and go the 'big block elephant' route. All the way. Not just seven litres out of the nearest wrecker's yard, but a real wild Dodge blueprinter from Don Garlits Hi-Performance World, packing parts made for the low, low sixes.
Like a Crower cam ground to Don's specification, Mickey Thompson rods slugged with 7:1 Keith Black pistons and Perfect Circle rings, an Air Research Teflon-ised GMC huffer sitting on a Cragar manifold, and an eight-port Crower injection system. Bearings are TRW specials, valves come from Donovan and the forged aluminium flywheel is a Schiefer deal. Ignition happens via a Mallory magneto hooked to Autolite AG403 plugs and Kendall 70-weight provides the lube, filtered by a Lee Eliminator strainer.
Running on a mix that's 85 per cent nitro, the 426 is putting out something like 1800bhp. Measure that . . .
Anyway, hooked up to the pile is a Schiefer triple-plate slipper clutch protected by a Lakewood hydroformed scattershield and coupled to a Donovan shaft and greek coupler. Bringing up the back end, Firefly's got a '60 Oldsmobile 4.11 axle built up by Garlits from Quartermaster Engineering parts.
Goodyear rubber marks the four corners of the super-long frame, with big 17in-wide wrinkle walls putting down the horsepower, and skinnies on Borrani wheels pointing the way. Rear wheels are ET mags.
Fibre Glass Repairs, who have now probably put together as many drag machines as they have repaired Reliants, punched out that skoopy glass bodyshell with the surf-board looks. Vic, the resident ace with the spraygun, did his thing with the blue metalflake while the 'Old Master' Bob Phelps twiddled paperclips until he came up with the right angles for the front axle. Like straight man.
With just half a season left to get the newly-motored rig sorted, the SPR team worked super-quick. By the end of the season ETs had dropped to 7.12 and next year should see the beginning of the sixes. Meantime they have the top speed mark in the bag - with a 218mph charge - and have the honour of being the first crew to set the fans alight with a fire burn-out. Actually, it's not the fans they set alight so much as poor old 'Bootsie' Herridge, who quite regularly gets a fire lit underneath him by that nasty Mister Billinton. Still, it keeps his seat warm.
Mike Lintern