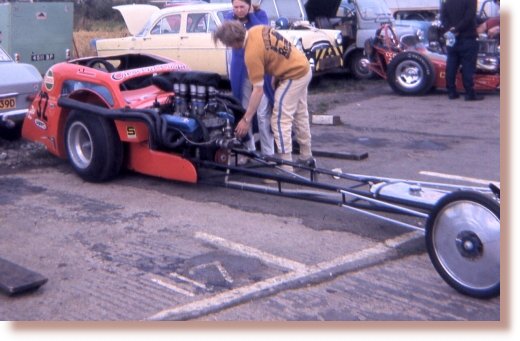 Bill Taylor photo
(This article was first published in the November 1970 edition of Custom Car magazine)
Tiny Topolino Fiats are getting to be kind of scarce nowadays due to the nasty stock car guys hustling them off to be put on the game and get knocked about. But the Crescent Coupe racer, now being fostered by Cliff Jones and Mike Treutlein, is one pretty little Topolino that will never come off the rails or get knocked up. You can look but don't touch. She's strictly for show and the straightline.
Mind you, Crescent Coupe has been around. She was originally the daughter of crazy cartoonist and drag racer Pete Millar, who ran her in the Stateside competition eliminator classes under the name Chicken Coupe. That was in '66, when she got power from a blown 260hp Ford V8 and ran quarter-mile times in the mid-eight second zone at up to 187mph. Then one day Pete got her out of shape and she had to be almost completely rebuilt. With the rebuild the little Topolino was re-named Crescent Coupe and given extra ponies in the shape of a 354cu in (5.8 litres) supercharged Chrysler.
In 1968 Pete shipped the Coupe to Sweden with the idea of dazzling all the Scandinavians, but en route she got damaged, lost a lot of parts and consequently, never made the Swedish strips in competition. After a while she began to be in need of care and attention and on a visit to Sweden early this year the Riswick/Priddle/Gane/Pritchard syndrome took an interest in her welfare and brought her over to England. They removed the Chrysler mill for their new fueler and sold what was left to Chris and Mike, who decided to continue the name and treat her to a John Wolfe Z28 Chevy.
In stock form the Chevy is a 302-cuber but to get the car to the limit for its class the block was punched out to exactly 5-litres. Goodies include Forgedtrue pistons with TRW rings on Warren steel rods and TRW bearings, a Racer Brown cam and Crower injection on a Mackay manifold. The car runs methanol at 10.5-to-1 compression, ignited by a Delco distributor and Champion J83Y plugs. Coil is a Lucas unit. For lubrication, the Coupe relies on Castrol and a Fram filter.
Putting the ponies to the ground, via direct drive and a 4.11 Olds '57 rear axle, is a Schiefer clutch and flywheel assembly.
Crescent Coupe's chopped flip-top body - with office trimmed in black by Mike - sits on a Woodman Gilmore tube frame and torsion front suspension. Home-made hubs are mounted on the tube front axle and carry Honda wheels with Avon rubber via Ford E93A spindles. Around back, the Coupe runs Goodyear slicks on American mags. Steering is courtesy of an Austin 7 box and braking is the job of rear drum binders assisted by a large chute.
Early competition runs with the new engine and Cliff at the wheel - he used to race Opus One - produced times in the 10-second bracket because of problems getting the car off the line. But terminals in the 140mph-plus region have shown the Coupe winds up pretty well once she gets started. Maybe it's female temperment, or perhaps that Chevy wants a drop of nitro.
Mike Lintern