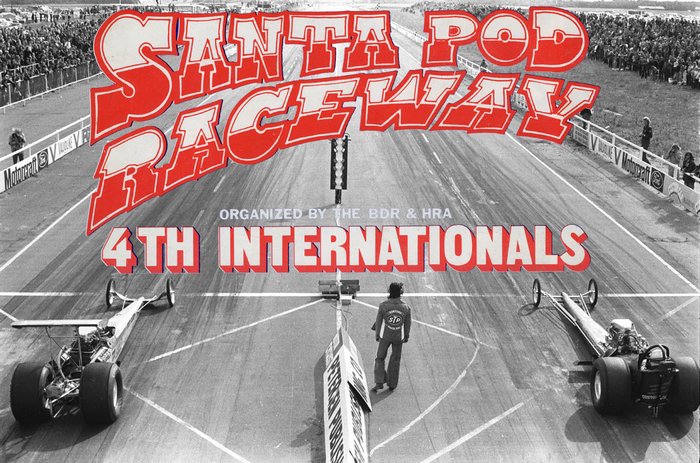 2013 is the 40th anniversary of the 4th Internationals series organized by the British Drag Racing & Hot Rod Association and sponsored by Petersen Publishing (publishers of Hot Rod, Car Craft and Rod & Custom magazines). The series took place over three consecutive weekends commencing on the 7th and 8th of July 1973. The first and third meetings were held at Santa Pod Raceway, the second was staged at HMS Daedalus which, despite its seagoing prefix, was a Royal Navy airfield in Gosport, Hampshire.
The 4th Internationals series were tremendous events in their own right attracting entries from the USA, South Africa, Holland and Sweden, but, more importantly, it set the precedent for future high quality international meetings. It began the trend for US drivers to bring over state-of-the-art cars which were often purchased by Santa Pod Raceway and either campaigned by British drivers, or driven on return visits by the American stars themselves.
The stars of the show were undoubtedly the two Fuel Funny Cars of Don Schumacher and Paula Murphy. The performance and showmanship were like nothing ever experienced before on British soil and it was all carried out in such a professional but seemingly matter of fact way. Anyone who witnessed this meeting, as I did, would surely agree that a new era of UK drag racing started then. It certainly sparked a huge interest in Funny Cars to the detriment of Top Fuel Dragsters.
But the event was not just about Funny Cars, there were two Top Fuel Dragsters driven by top US drivers, and the mighty Harley Davidson motorcycles ridden so impressively by the late Danny Johnson. Let us start this page by taking a look at the US contingent.
There are excellent reports of these three meetings on the Trakbytes website. Webmaster Chris Dossett has kindly given me permission to combine these reports in to a single, downloadable pdf file which you can view and, or save by clicking here.